Gamma Nu Eta

Beta Chapter Fall 2011 New Members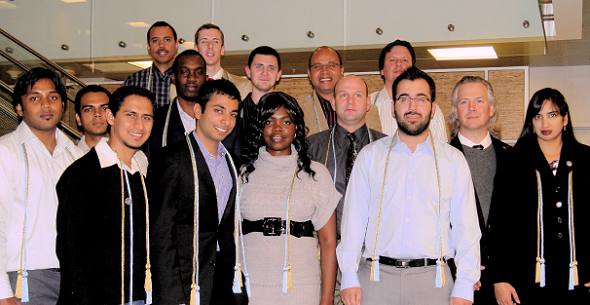 New Members of the Beta Chapter of Gamma Nu Eta were inducted on Friday, October 21, 2011.
New members inducted include Mervyn Anthony, Mohamed Bouraze, Shivakumar Dorai, Maya Embar, Terence Fernandes, Stephen E. Felix, Joshua Hensley, Isioma Ijeh, Terrance Komperda, Ganesh Magal, Kostantinos Sekalias, Erfan Setork, Jason Shy, Michal Siuty, and William Wesselman.
The Induction Ceremony took place at IIT's University Technology Park, 3440 S. Dearborn St., Chicago, Illinois. One Professional Member was also inducted, and our new Professional Member Ray Epich, the "Dean of Chicago CIOs", presented brief remarks. A reception followed the ceremony. See the Program (PDF file) for full details.